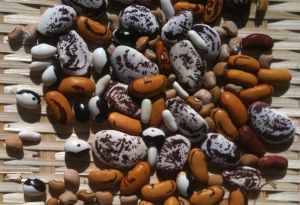 In so many ways, GMOs deplete any resilience in our food supply.
GMOs are perhaps the ultimate pinnacle of petroleum-dependent agriculture. These plants are laboratory-engineered specifically to work together with petro-chemicals: herbicides, insecticides, fertilizers. Headed into a world with increasingly less and less fossil resources, deepening the petro-dependence of our food supply is an absolutely disasterous course.
For thousands of years, humanity has fed itself "organically" — only your great-grandmother didn't have a term for it. That was normal agriculture. This chemical-dependent stuff is very recent, widespread just since WWII. GMOs are the ultimate in UN-organic. The useage of farm chemicals with GMOs has vastly increased; it's now producing SuperWeeds and SuperBugs which are resistant to chemicals, requiring stronger chemicals in greater and greater quantity.  And the chemical-centric agribusiness process is stripping out our topsoils, polluting our waterways, sickening our farm workers.
The long-term impacts of GMOs on human health are completely untested.  For many years the companies that produced GMOs refused to allow independent studies, and there has been no transparency of scientific findings.  The first independent, longer-term studies are just now beginning to emerge in Europe, and these studies suspect the GM process itself (not just the chemicals) is detrimental to those who consume it.  (YouTube) We can indeed have a better life than this.…