Events at the Westchester Community Oven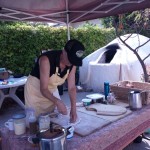 Come see the new Westchester Community Oven in action, and share good food with friends and neighbors.
Stop by for a short visit, or try your hand at baking in a traditional earth oven.
On Saturday Dec 5 and Saturday Jan 16, weather permitting, the Oven will be fired up and ready for action.
If you want to try your hand at baking in this community-scale wood-fired bread oven, then bring pizza dough and toppings to share, plus a large cutting board.
For bread baking, bring your risen bread dough, plus any kitchen supplies you might need.  The Oven only has fire tools (such as peel, tongs, etc.)
If you are new to baking — or simply curious — there will be many veteran Bread Bakers attending, so this is a great chance to see how they do it and ask questions.
For the December bake (and perhaps the January one as well) the onsite kitchen will be under construction, thus you cannot use its indoor counters, kitchen tools, dishes.  So, pretend that the Oven is in a park, and bring what you would need to bake.
Note that this event runs on "Oven Time" – when the Oven is ready.  There are no go-backs: once the oven has moved on to bread temperatures, we cannot go back and do pizza.
Also: bring a sunhat and/or a sweater.  The Oven is outdoors, in the sun, plus the weather gets chilly in the evening.
Community Bakes at the Westchester Community Oven
Sat Dec 5
Sat Jan 16
Pizza Construction begins at 11:30, baking between 12 – 1PM
Bread Baking begins at 4 PM, with the last loaves going in at 5:30 PM
event is cancelled if it is raining.
$5 suggested donation to cover firewood and oven supplies
PLEASE RSVP at Los Angeles Bread Bakers Meetup or via ECM's RSVP form
You might also like: