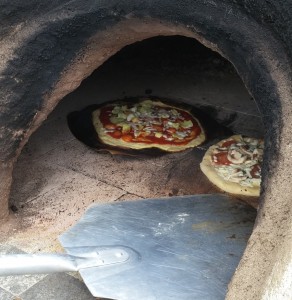 It's no secret that we built a community-scale wood-fired bread-and-pizza oven here in Los Angeles.  And that we hold monthly Community Bake events in conjunction with Los Angeles Bread Bakers so that anyone can try their hand at baking in it.
But … what if you're gluten-free?  Does that count you out?
After years of serious gluten-free living, I eased up a bit (and the monthly presence of totally-awesome artisan baked goods in my life has certainly had a lot to do with it), but I really want to get back to it.  Or at least closer.  Meanwhile we have these monthly baking events and I can't bear to not participate.
I hopped on the ole Google and learned that there are plenty of people out there trying gluten-free pizza crusts.  Not that many are using a wood-fired oven, but a few are using an outdoor grill.  Thus begins the challenge, which will likely take me all summer to resolve:
How do you make a totally awesome gluten-free pizza in a wood-fired oven? – not just any pizza, but one that's so awesome that artisan bakers are impressed by it……