Gluten-free Pizza options for wood-fired oven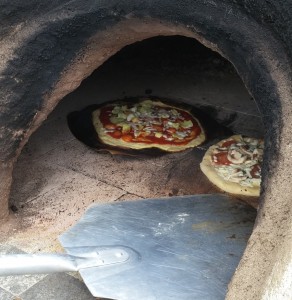 It's no secret that we built a community-scale wood-fired bread-and-pizza oven here in Los Angeles.  And that we hold monthly Community Bake events in conjunction with Los Angeles Bread Bakers so that anyone can try their hand at baking in it.
But … what if you're gluten-free?  Does that count you out?
After years of serious gluten-free living, I eased up a bit (and the monthly presence of totally-awesome artisan baked goods in my life has certainly had a lot to do with it), but I really want to get back to it.  Or at least closer.  Meanwhile we have these monthly baking events and I can't bear to not participate.
I hopped on the ole Google and learned that there are plenty of people out there trying gluten-free pizza crusts.  Not that many are using a wood-fired oven, but a few are using an outdoor grill.  Thus begins the challenge, which will likely take me all summer to resolve:
How do you make a totally awesome gluten-free pizza in a wood-fired oven? – not just any pizza, but one that's so awesome that artisan bakers are impressed by it…
note: don't miss the results at bottom of post!
I've selected my first 6 recipes to trial.  Oh wait, 7.  They are:
Gluten-free pizza dough with overnight rise – by GlutenFreeGirl.  This one appeals to me because I know from experience that a long rest time will improve the texture of the gluten-free end product.  Also because it has long-term potential for mimicking some of the things I've learned from sourdough bread bakers and from fermentation guru Sandor Katz – wait, is there potential for a gluten-free sourdough pizza made in a wood-fired oven? oh my!  Another plus is that the authors seem to have made the recipe many times, so it should be a stabilized tried-and-true recipe rather than someone's one-off notes. … See my results in section below.
Cheese & almond flour gluten-free pizza crust – recipe by Tom Naughton, wood-fired instructions by the Texas Oven Co (beginning to sound like Hollywood movie credits here).  I chose this one because it's really helpful to read someone's actual experience combining wood-fired + gluten-free; all the others will require a lot of adaptation from me.
Paleo gluten-free pizza crust, by Zen Belly Catering.  These guys completely rave about their flavor results and compare it to NY style pizza.  We'll see.
Tapioca & dairy gluten-free pizza crust, by Domestic Man.  This one gave me the idea of working with a cast-iron skillet, which would be a great way for serious GF folks to stay safer around so much artisan flour at our Oven events.  The skillet would also help when we're dealing with sticky GF doughs in combination with the rapid-fire timing of a wood-fired oven at a public event.  Domestic Man's actual recipe sounds like a candidate for par-baking at home and bringing to the Oven event, and might be good to supplement some of the other recipes on my list.  I've worked with tapioca flour before, though, and I'm hesitant about what the dough texture might be like.
Spaghetti squash gluten-free pizza crust, by A Beautiful Mess.  I'm not sure how these ladies named their blog, but the photo of this "pizza" just might have something to do with it.  This one sounds like I'd have to eat it with a fork, however it is "real food" rather than some "substitute food," and they say the flavor combo is great.  I think I'll try this recipe in late summer, once spaghetti squashes arrive at local farmers markets.
Gluten-free crust for grilled pizza, by SimplyGlutenFree.  There are many grilled pizza recipes online, but a wood-fired oven requires quite a bit different logistics.  I had this one on my list before I found the Texas Oven Co one, but I'll keep the SimplyGlutenFree one on the list for another alternative technique.   Another inconvenience about this one is it's for 8 pizzas, so I'll have to dissect it and scale it.
Chia seeds, garbanzo & millet gluten-free pizza crust, by BigSisLittleDish.  I'll keep this one in the "tickler file" since the authors say it is an adaptation of bread, and it has a lot of ingredients that I don't have in stock right now.
Are you dairy-free in addition to gluten-free?  All but #2 and #3 are either already dairy free, or include DF options in their notes.  And at our Oven events, there are plenty of dairy-free toppings.  (sometimes someone even brings tomato-free pizza sauces!)
Results – June 2016 testing: Gluten-free pizza dough
At the June 11 Community Bake, I tried the Gluten-free pizza dough with overnight rise – by GlutenFreeGirl  recipe.  … My score: 2.5 out of 5.
Things I learned: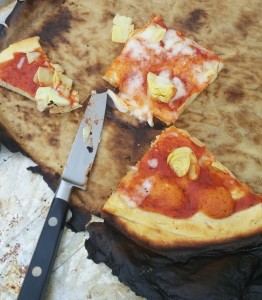 Rolling out the crust between oiled parchment sheets is really easy and works great.  See photo earlier in this post.  It's easy to oil (a dot of oil on one parchment, and smear it around with the other). Do this at home and bring your formed, raw, GF dough to the event on a cookie sheet.
For my trial today I did one crust par-baked, and one went into the Oven raw.  The raw one turned out much better.  (simpler too!)
I didn't need the cast iron pans, cornmeal grit, or par-baking processes that I had thought I might.  I simply assembled the pizza with sauce and toppings right on top of the parchment.  We slid the parchment onto the peel.
Instructions from Texas Oven Company said to slide the entire thing out of the oven to turn it.  We didn't do that today, but it might be advisable.
Sure, the paper got roasted and ended up like curly ashes.  (black stuff in photo) But it make it very easy to manipulate, and no worries about other people's flours or floured tools getting on the GF pizza.
The GF girl recipe came out a bit like a crackerbread.  It definitely needs to be rolled out very evenly to cook well, plus it needs the sauce and toppings to stay pliable.  Some LABB bakers recommended after-the-fact that I spread olive oil on the exposed crust at the edges (I didn't try this today).  It was serviceable, and it wasn't as bad as some GF products I've tasted, however it really lacked total awesomeness. Hence the low score.
Be sure to bring your own cutting board, knife, etc. to the Community Bake event.
Results – July 2016 testing: Socca
OMG!  Socca!  I never knew it existed!  Socca is a traditional Italian flatbread made with ground garbanzo beans, naturally GF without any adjustments, and oh is it delicious!
Mark Bittman's recipe from the NY Times is as typical as most of them.  Most socca are equal parts water and bean flour.  This is peasant food, so it is NOT complicated.  Go with the 12+ hours "let it sit" time (the batter changes consistency). And don't leave out the salt, because you'll really miss it.  I only used the Bittman instructions through step 2, then switched to my own techniques, but still … My score: 5 out of 5!
Wood-fired oven techniques:  Heat a dry cast iron skillet in the wood-fired oven.  Using barbecue gauntlets, pull skillet to lip of oven and swirl in 1-2Tablespoons of good olive oil.  Push skillet back in for a minute or so to heat, and get your batter nearby.  Pull skillet to lip of oven again, and add in about 1/2 to 1 cup of batter, swirling it slightly like you would a for French crepe.  Slide the skillet into the heat, watch it carefully, and meanwhile get your toppings ready.  Judging from online photos, toppings for a socca seem to traditionally tend toward light quantity with strong, rustic flavors.  When your socca gets slightly tanned, pull it to edge of oven, dash on the toppings, pop it back in to melt/frizzle whatever you put on there, and pull it out.  (trick to pulling it out:  use a metal peel to help lift it, and have a heavy trivet or blocks of firewood ready to place your skillet on, because that skillet will be HOT for a long while.)  remove socca from skillet to prevent socca from overcooking.  With our crowd that was not a problem – onto the cutting board and passed around to DEVOUR!  yum!  I will be making this one again!
Results – Sept 2019 testing: Red Lentil Flatbread
Wowza! It was pop-it-in-the-blender easy, and boy, did it disappear fast as it came out of the oven!
I started with this Red Lentil Flatbread recipe from Moon Spoon and Yum, but mine didn't look anything like their picture. I made the batter in the blender as recipe calls for. Changes I made to the recipe: I soaked the red lentils for perhaps 3 hours. I made 1.5x the recipe, but threw in 2 large cloves of garlic. And because I was using a cast-iron skillet in the wood-fired oven, my flatbread turned out bathed in olive oil. 1.5x their recipe gave me approx 5 flatbreads. (And because the soak time is so much shorter, since my first trial I have made this recipe several times.) … My score: 4.5 out of 5.
My wood-fired oven techniques: Heat a dry cast iron skillet in the wood-fired oven.  Using barbecue gauntlets, pull skillet to lip of oven and swirl in approx 2Tablespoons of good olive oil.  Push skillet back in for a half a minute or so to heat the oil, and get your batter nearby.  Pull skillet to lip of oven again, and pour in enough batter to make a nice "pancake" shape in the skillet. Since mine was a 10″ cast iron skillet, my "pancake" was perhaps 6-8″ in diameter. I spread the "pancake" a bit with a silicone spatula to make sure the batter was an even thickness. you don't want it too thick. Slide the skillet into the heat of the oven, and watch it carefully. (I don't have accurate timings for this, because wood-fired oven heat varies so much, and it is CRAZY fun baking at a community oven with so many other people!) Basically, the top of your batter will look a bit drier – don't wait for it to brown up. Part way through the bake, using barbecue gauntlets, pull the skillet to the lip of the oven, and -using a metal spatula – flip your flatbread. The side that was down should be slightly golden. Bake the second side for less time, but don't burn it! Some of mine got pretty toasty but they still tasted great. When done, remove skillet from oven. (trick to pulling it out:  use barbecue gauntlets, and have a heavy trivet or blocks of firewood ready, because that skillet will be SUPER HOT for a long while.)  Using the metal spatula, remove flatbread from pan, put it on a cutting board, and slice with a pizza cutter. It is best when it has cooled just slightly.  About toppings for this one, I tried a bit of Parmesan cheese, however the flatbread was so delicious on its own, with all that garlic and oil, that it really didn't need toppings.  And don't just take my word for it. Members of the artisan Los Angeles Bread Bakers begged for the recipe!
Jan 2020 update: the Red Lentil Flatbread works fine as leftovers. It is a bit oily, so I slapped the leftover pieces on a cast iron skillet and zapped them under the broiler – just a few minutes, long enough to warm up. This was excellent topped with jarred harissa sauce!
If you enjoyed this post, please consider making a small donation to support my ongoing work. — thanks!
You might also like: