. 1955-2023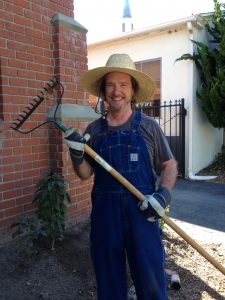 On April 20, 2023, Peter Rood — the co-founder of the Environmental Change-Makers, and the man behind why we have a Community Garden together with a wood-fired bread oven at the Holy Nativity site in Westchester/L.A. — underwent complex heart surgery. He did not make it out of surgery.
Peter was co-founder of the Environmental Change-Makers. He was the pastor at the Holy Nativity church site where we held many ECM events, where we grew a food garden, demonstrated rainwater harvesting, and built a community oven. He was the visionary behind the activities and events, and the inspiration and guide to community-building.
Peter leaves behind three children, 5 grandchildren, a brother in SoCal, and a sister in AZ. His daughter lives here in Westchester with husband and their 2 kids, one son is in Playa Vista with wife and newborn, and the eldest son is in the UK with 2 kids. Peter's wife Christen passed away a little over 2 years ago.
more about Peter:
Photo essay: The Change-Making work of Peter Rood
"Entry Points: Church as Hosting Community," Peter interviewed by the Christian Century, May 2009
"A Special Introduction to Communities of Faith," introduction written by Peter, from Peter's & my book, Environmental Change-Making, 2008

access pdf of the entire book, via my Podia site (coming soon)

public memorial page for Peter, at EverLoved site, set up by his son Julian. This page includes updates about services
Blog posts here on Change-Making.com about Peter & ECM: