I'm an environmental activist and community-builder — a change-maker.
I'm best known for founding the Environmental Change-Makers community group and building two community gardens in Los Angeles. Along the way I've written ten booklets and ebooks, two full-length books, several blogs, countless free info sheets, and more recently, poetry, all about sustainability.
In my writing I've explored just about every aspect of living a well-considered, environmentally-responsible, fulfilling, purposeful, and interconnected life.
Writing's one thing, but in real life I've done quite a bit of that too …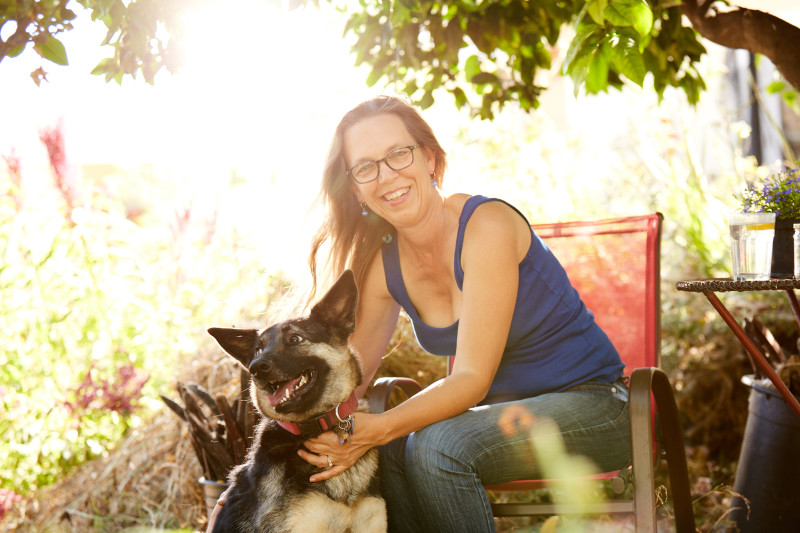 In the beginning
Nearly two decades ago, when I learned about global warming, I got deeply depressed about what we, humanity, had done to the planet. Then I picked myself up, dusted myself off, and said to myself: "Well, there's got to be something we can do!" And I set out to find it.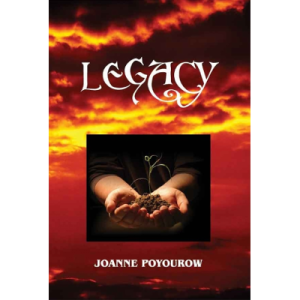 I'm a fanatic researcher, and as I began uncovering environmental solutions, I'd tell my friends about them. My friends said "Wow, this is great! Someone should put it all together in a book" … so I did.
That first book was Legacy: A Story of Hope. It brought together a wealth of solutions to global warming – transforming food, housing, land use, transportation, energy – with Permaculture and powerdown at the core. I folded it all into a story, a novel, so that people could see the solutions unfold and grasp their interconnected nature. Legacy is a story of activists: a small group of people creating transformative change.
Funny thing about a story like that, it kind of infects people. One friend read it, and passed it to another. Pretty soon I was introduced to Peter Rood, and the novel's "small group of people" came alive.
My Next Ten Years
We knew we wanted to DO SOMETHING – real, concrete action. We started simply, a small group of us, reminding each other about greener habits and congratulating each other on our successes. "Yay! You took your cloth bags to the market!" (that was long before anyone thought of bag-ban laws). "Yay! You set up your composter!"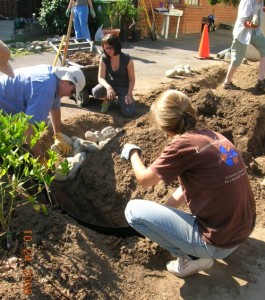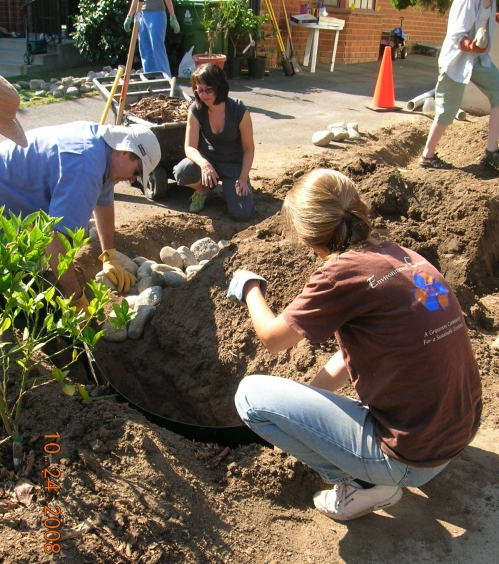 We called ourselves the "Environmental Change-Makers." Together our blossoming group dug up a small chunk of lawn at Holy Nativity Episcopal Church in the Westchester neighborhood of Los Angeles. We planted a small organic vegetable garden, and I began teaching garden classes.
Paula Cohen asked for my help to transform abandoned property at Orville Wright Middle School into a garden. With John Tikotsky, we spent two years wrestling with Los Angeles Unified School District before we could hold the community-wide project day to break ground on the garden. Today that one-acre community-and-school garden continues to operate as its own nonprofit organization, the Emerson Avenue Community Garden.
The early days of our journey are captured in the form of a how-to book for community leaders. Peter and I co-wrote Environmental Change-Making: How to Cultivate Lasting Change in Your Local Community.
I read about positive things going on in Totnes, England, so I brought the ideas of the international Transition Movement to Los Angeles and Southern California. I created the Transition Los Angeles city hub, helped several local groups get established, and blogged for a while with Transition US.
I dabbled in political action as well, with a campaign to get the City of Los Angeles declared a GMO-free Zone with respect to seeds and plants that are grown here. Our local coalition, SeedFreedomLA, gathered more endorsements and signatures than any motion before City Council in the prior 5 years, but then the corporate monster reared its ugly head in the form of Biotech industry lawyers and lobbyists. I met that monster face-to-face and valiantly did battle, but our motion was quashed.
All along, the Community Garden at Holy Nativity kept growing. Season after season we'd call work days to add new features: Rainwater harvesting (4 types). On-site composting. Murals. Fruit orchards. Beneficial insect-attractant flowers. Today the Garden wraps around the entire site, and includes a hand-built, adobe-and-cob, community-scale, wood-fired bread-and-pizza oven.
Recent Work
The Environmental Change-Makers (ECM) continue to host a full calendar of classes, speakers, and projects. People gather each month for Community Bake events at the Westchester Community Oven. We continue to grow food in the Community Garden at Holy Nativity, to benefit Food Pantry LAX. You can stay up-to-date by joining the ECM mailing list.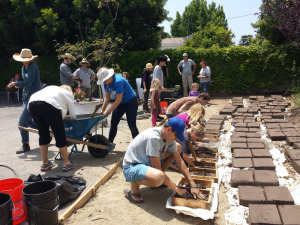 I've taught several sustainability courses at Otis College of Art and Design, including "Human Ecology" (with Elektra Grant), "Food Politics" (with Claudia Hernandez-Romero), and "The Art of the Edible Landscape." Our classes inspired Otis students to form the Dirty Deeds Garden Club and join in environmental activism.
I've transformed my ever-popular "What to Plant When in Southern California" into a free smartphone app, called VegGarden365. It includes cultivation tips specific to SoCalif's year-round growing conditions.
What I'm Doing Now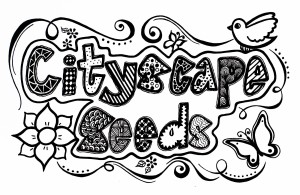 I've always had a dream that one day I would live on a farm, and today I kind of do. It's just located within a megacity and its "fields" are separated by a few blocks. I run a micro-business seed company, Cityscape Seeds, which sells online and at several local farmers markets. Cityscape Seeds is dedicated to localizing vegetable varieties to our hot-and-dry local conditions in anticipation of the deepening effects of climate change.
I continue to explore new topics in sustainability and bring what I learn out to you, my readers.
Recent additions to my Abundant Harvests booklet series include: "When You Don't Have Any Land: How to Grow Vegetables in the City," for renters and condo-dwellers and describes all the ways I know of that you can find a space to garden. "Urban Seed Saving," which explains isolation and populations for those who are saving vegetable seed in tight city spaces.
I'm teaching classes through Otis College of Art and Design, and Otis Extension.
Projects continue: In autumn 2018 we're gearing up for the 11th year of cool-season harvests at the Community Garden at Holy Nativity.
I'm working on a new novel, set in the world of Legacy. The new one is the story of River, a young urban landscaper.
When I started doing all this stuff, it wasn't like I set out to "create something big." Rather, I was just doing my small part. And then I did another small part. And another. After all these years, all those small parts really start to add up!
Your own change-making doesn't have to be big. It can be very small and personal, too. Even the smallest change does make a difference … because right now there are so many people, each of whom is in the process of making small, incremental change. And all those changes put together, over all this time, really do add up. You are important, your positive efforts do matter, and yes, it's totally realistic to continue to hold hope.
— Joanne P
If you'd like to join in on all the fun, you can subscribe to my "Change-Making News" newsletter, or follow me at @ECMJoanne on Twitter or Insagram. If you're on Google+ you can find my stuff here.
My extended bio is at LinkedIn Alternatively, a pdf CV is here.
Thanks to Christopher Frangapane for the photo of me and doggie Pizza.