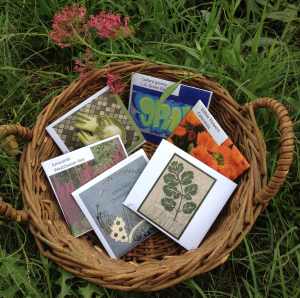 Cityscape Seeds are the perfect fit for your Los Angeles garden.  We know, because this is what we grow!
Heirloom veggies give you wonderful taste, delightful variety, and rich nutrition, plus connection to deep cultural stories and traditions.
Through Cityscape Seeds you're helping to keep the stories going: you're supporting the effort to "localize" favorite vegetable varieties to Los Angeles growing conditions.
Check out our current offerings at the Cityscape Seeds Etsy Store.
Local seeds with Local how-to's:  Each packet of Cityscape Seeds contains just what you need for city spaces.  It comes with growing instructions which are specific to Southern California (unlike most other seed companies), as well as biodynamic plant spacing, harvest information, and notes about companion planting, beneficial insects, and more.  We bring them to you in origami-folded packages with art on the front.
Learn more about Cityscape varieties here.
Our story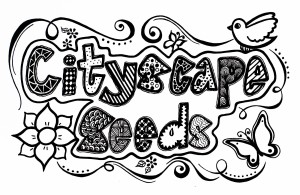 Cityscape Seeds is a project of Joanne Poyourow and Matt Van Diepen.  We started this project in 2014 after we took a 5-day Seed School course which opened our eyes to the emergency within our industrialized food supply.
The mission of Cityscape Seeds is to adapt common vegetable varieties to Los Angeles growing conditions.  We aim to develop flavorful heat-tolerant tomatoes, drought-tolerant chard, front-yard-beautiful collards, and identify leafy greens which grow well through Southern California's hottest, driest months.  As climate change deepens, we are going to really need all of this!
Cityscape Seeds supports urban agriculture and truly-local food.  We're constantly looking for those wonderfully compact plants which do so well in our limited urban spaces.  Each of our seed packets include our recommendations for growing in containers.
All Cityscape Seeds are grown on urban properties around the City of Los Angeles and the greater L.A. area.  You won't be getting seeds which were accustomed to wet Oregon or the humid Adirondacks.  You'll get seeds which already grow well right here in Southern California.
We grow organically and biodynamically (although we're too small to get official certification).  We choose plants which grow vigorously and produce abundantly without chemicals.  That way, when you get them home, you'll get the same results!
Along the way, we aim to have some fun too!  Inspired the Hudson Valley Seed Library, we bring our seeds to you in origami-folded Art Packs.  We think they're pretty, and hope you enjoy them too!
Where to find Cityscape Seeds
Check out our current offerings at the Cityscape Seeds Etsy Store.
Or, come see us in person …
any Sunday at the Mar Vista Farmers Market
selected other local farmers markets (spring 2016: Baldwin Hills Saturdays, Santa Monica Main Sundays, Inglewood monthly Fridays)
by pre-arrangement at any meeting of the Environmental Change-Makers in Westchester
by pre-arrangement at certain meetings of Transition Mar Vista or Good Karma Gardens