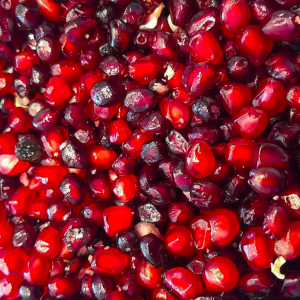 In the days leading up to Thanksgiving, several people enjoyed my photos on Instagram of pomegranate processing. Some people begged for the recipe.
The original recipe was something my sister made up years ago, to cope with an over-abundant harvest of pomegranates. Since each of us have pomegranate trees, this Pomegranate-Cranberry Sauce has become standard in our family. And boy, is it GOOD!
It does take a bit of labor, however.
To make Pomegranate Cranberry Sauce, you have to start by processing the fresh fruit. Then you have to make the pomegranate molasses. Lastly, you make cranberry sauce.
Pomegranate molasses can be found in Middle Eastern grocery stores. It is a staple product in several cultures. Or, pomegranate molasses can be made from pomegranate juice you buy in a health food store; there are several recipes on the internet. But we homemake it from our fresh fruit.
Here's how to DIY, for those who are still interested.…