Green Friday – Nov 27 – an alternative to consumerism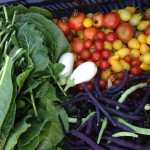 Be a producer, rather than a consumer.
Are you sick of all the ads and consumerism that now invade our lives even before Halloween?  …the deluge of STUFF that you know is so bad for our planet, its climate, and all humanity …
Do you want to do something simple, to help put in place solutions?  Do you want to gather with people who understand?
Come to ECM's Green Friday event on Friday Nov 27.
This year many progressive and conscious retailers are boycotting the insanity and actually closing their doors!
In addition to participating in NOT BUYING STUFF, we wanted to do something more.  So, we'll be …
tending the Community Garden at Holy Nativity and helping grow food for Food Pantry LAX
cleaning seeds from heirloom vegetables, to help preserve this precious inheritance
sharing ideas (and leftovers) with like-minded people
sharing garden know-how, and planning future gatherings
Come join us in the Garden!  Even if you don't like to dig in the dirt, bring a light lunch to share, and enjoy the companionship!
There will be physically active tasks, sit-down tasks, and (if we get RSVPs for it) tasks for kids, plus potluck lunch for everyone.
Bring:  sun hat, sun protection.  Wear garden grubbies.  Bring garden gloves and hand tools if you have them.
Bring all your cool-season vegetable gardening questions, and questions about preparing for El Niño.
Green Friday in the garden
Friday Nov 27, 11am to 2pm
PLEASE RSVP so we know which activities to plan for
Community Garden at Holy Nativity
6700 W. 83rd, Westchester/LA 90045
event will be cancelled if it is raining