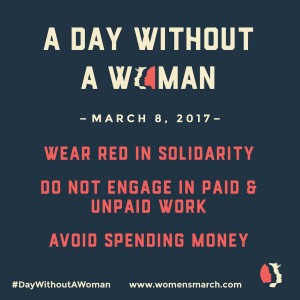 How does one make an impact on "A Day Without a Woman"? In trying to puzzle this out, I consider many of the roles I have played and currently play.
Who does it hurt?
If you're a mother of young children, you can't very well "strike" and leave toddlers unfed, babies undiapered. Sure, some women might have the luxury of dumping the kids on some male, but when my kids were small that was simply not an option. It was more of "the buck stops here," squarely on my shoulders.
If you're a homeschooling mom, or an after-school-activities mom, you can't abandon your kids' education, nor refuse to drive them to classes and activities. Rather than a political statement, it simply hurts your children.
…