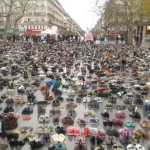 Thousands of people are marching this weekend in cities everywhere to call for climate action at this coming week's Paris negotiations.  The photos are now streaming in from around the world. (Check 350.org or the #climatemarch hashtag)
In Paris — where police shut down the planned march because of the recent terrorism — people made sure their voices were still heard, in beautiful fashion.  At dawn, thousands of people lined up their shoes, so that their shoes marched when they could not.  And they formed a human chain throughout the city.
Don't you wish you could join them?
If you can't make it to one of the marches taking place this weekend here in Los Angeles, you can join us in Westchester/LA on Monday night for a candlelight vigil — together with a discussion of powerdown lifestyles and what we can do, grassroots, to help make the shift happen.
Vigil for Climate Action
Monday Nov 30, 6:30pm
Holy Nativity Church, 6700 W. 83rd, LA 90045
more info