Evening Primrose 'Ballona Creek'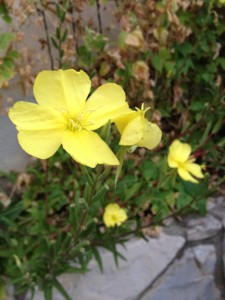 You can take part in helping to preserve a very local strain of this California wildflower.  It has quite an amazing story:
It was the year 2000, and I was driving along Lincoln Blvd near Jefferson and LMU when I saw some lovely yellow wildflowers alongside the road.  I stopped my van and hopped out and took a few seedpods home.  Two weeks later, Playa Vista bulldozers obliterated the original patch of wildflowers, together with many other local treasures.
I have been growing the wildflowers — a Los Angeles strain of Evening primrose (Oenothera elata hookeri) — at my home in Westchester ever since.
A few years ago, when elders from the Gabrielino-Tongva and Chumash tribes visited the Community Garden at Holy Nativity, we brought some of the Oenothera seeds to give to them.  It made a tremendous impression on them.  The plant is a sacred herb for women in their cultures.
In Western herbalism, Evening primrose has gained interest to treat menopause and menstrual symptoms.  "Evening primrose oil" is the crushed extract of the prolific seeds of the Oenothera plant, and 'Ballona Creek' is our very localized strain of it.  Additionally, I have read that the leaves can be used as a potherb (that means, they can be cooked into any recipe that calls for cooked greens or "spinach").
The plant is a biennial, which means that it grows leaves and roots in its first year — looking rather like a flattened, oversize dandelion — and sends up flower stalks in its second year.  The flowers open in the evening (hence the plant's name) and attract pollinating insects, moths and hummingbirds.  If you cut off the flower stalks, you may still get another flower show in the following year.
Oenothera is very drought tolerant.  It seeds prolifically, but the seedlings are easy to pull up, so I don't regard it as a pest.
In autumn, scatter seed on prepared ground in direct sun (direct seed), preferably just before a rainstorm. The new sprout will look like a flat rosette-shaped cluster of "dandelion" shaped leaves. Tolerates sandy soil and survives on seasonal rainfall.
Order seeds for Evening primrose 'Ballona Creek' at Cityscape Seeds.

Oenothera elata hookeri

biennial or short-lived perennial

recommended spacing: 36″

total height including flower stalks: 4ft