Amaranth 'Westchester Red'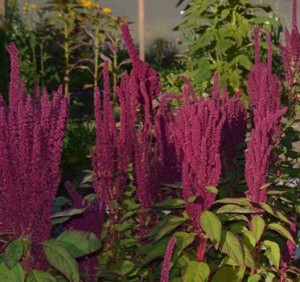 Amaranth is the star of our late summer gardens.  Its dramatic burgundy spires are eye-catching, and never fail to have passers-by asking "what is that!?"  It doesn't mind the peak intensity of SoCal summer heat, and looks great when all else in the garden is wilting and giving up.
Amaranth is the source of the very tiny "amaranth grain" that you might recognize from healthy-food store crackers.  Its greens are edible, and are a great hot-weather substitute in any recipe that calls for "spinach."  Many Asian cultures use amaranth greens in their cuisine.
The seedlings of 'Westchester Red' sprout up burgundy-leafed.  The tender leaves of young plants (up until about 6″) are beautiful and mild-flavored in a mixed-green salad.  The flower heads stand nicely as a cut flower.
Once you welcome amaranth to your garden, it will grace you with its presence year-after-year.  We pull unwanted seedlings for salads (or to feed bunnies or chickens), and regard it as a sign of urban gardening success when our "weeds" come up food!
The 'Westchester Red' variety is fully localized to Los Angeles growing conditions.  It has been grown here for successive plant generations since perhaps 2005.  Its origins were the most vital survivors from Bountiful Gardens' amaranth mix of that time period.
Latin name: Amaranthus

Annual.  So Calif season:  plant in warm, grows into hot

Cover seed lightly, or not at all

Use a 9" planting triangle for biodynamic spacing

Containers: plants will be stunted but will still bloom

Plant family: Amaranthus

Guild for Vegetable Crop Rotation Wheel: n/a