I'm speaking at the National Heirloom Festival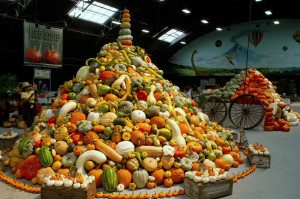 In less than a month, the National Heirloom Festival will be held in Santa Rosa. Are you going? This celebration of seeds and vegetable plant diversity is lots of fun!
And this year, I will be speaking!  I'll talk about Cityscape Seeds, the micro-scale seed enterprise that Matt VanDiepen and I have run (selling seeds at Mar Vista Farmers Market) for the past four years. And I'll talk about Seed Saving in the City: what's special about it, what are the advantages, and what you need to pay attention to in order to get reliable seed.
The National Heirloom Festival runs Tuesday Sept 11 through Thursday Sept 13, 2018, at the Sonoma County Fairgrounds in Santa Rosa. Full info is here.
So, get your reservations in place now, and come and join the fun! (if you're looking for carpool opportunities, try contacting the Seed Library of Los Angeles, since there are often people going up from there).
(photo by Slow Food Sonoma County North, since I cannot find my own photos from last time I went!)
You might also like: