What's in your El Niño garden?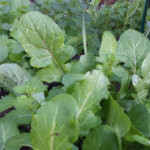 Oh, this is the season for leafy greens and root vegetables — and an El Niño year is no exception!
They grow plenty of veggies in English gardens and (although we in So Cal may be unaccustomed to it) that's the kind of climate we have here this winter.
Just to prove my point, yesterday evening my smartphone weather app had the same forecast for London as for L.A. … rainy, high 40s …
The thing to know about wet winters and gardens (in addition to El Niño flood preparations) is:
don't walk on your soil, don't work your soil.
With all this water, soil compaction can be a real issue, especially if you have clay soils.
Keep your feet on the paths or stepping stones, and avoid walking on the growing surfaces.  Wait until your soil is much drier before you try to  turn it or mix in compost.
So … presuming that your soil is in reasonably good shape, bring on the seeds and seedlings!
Leafy greens grow exceptionally well with all this cool weather and wetness. All the kale you ever wanted. Chard. Lettuces. Cabbages.
Parsley and leafy herbs. Grow cilantro alongside all your broccoli-family crops, like kale and cabbages — at the Community Garden at Holy Nativity we observe that cilantro seems to distract the destructive Cabbage White butterfly.
Root crops, like beets, carrots, turnips, parsnips.  If you do have heavy soil or clayey soil, plant daikon radish seeds now — their huge roots will help do the work of opening your soil, even during wet weather.
California wildflowers. This should be an AWESOME year for poppies and lupine.
Get those seeds in now and let Mother Nature do the rest!
I've got plenty of seeds for leafy greens — like Tendergreen Mustard, L.A. Green Glaze Collards, Ethiopian Kale, Westchester Red/Green Chard — over at Cityscape Seeds.  You can get them on Etsy or at Mar Vista Farmers Market.
And if you don't want to sprout seeds, you can get plenty of tiny seedlings and baby plants (including some that I helped grow!) from Matt Van Diepen at the HomeGrown Gardens stand at Mar Vista Farmers Market.