The Econ Puzzle's Debut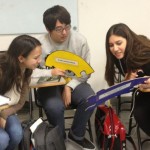 This week marked the trimphant wrap-up of our Human Ecology class at Otis College of Art and Design. It was a great group of students this semester, and their enthusiasm shone through in their final projects.
We celebrated with people from Transition Mar Vista/Venice as well as people from other departments at Otis. As teacher Elektra Grant expained so well in her introduction, it seems approprate that the "Human Ecology" class has so many stakeholders.
For me, this class was particularly special because it debuted the economics puzzle pieces I'd so long wanted to try.
The puzzle idea comes from my 10 Practical Tools booklet and I designed it to demo the point that "an economy is an ecosystem." That in order to build economic solutions and a more-appropriate economy, we must consider many "pieces" of the "puzzle."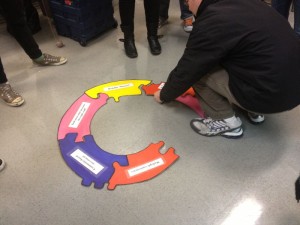 The puzzle is made of cardboard, with a card on the back of each piece that has bullets explaining that particular element. I brought the pieces into the classroom hidden and unassembled, and the students were handed these oddly shaped pieces of cardboard for small group discussion of the bullets. With the class as a whole, we talked about real life examples of each economic element.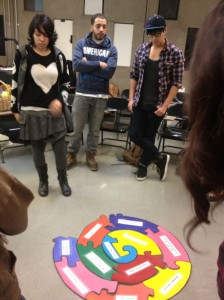 At a certain point, students who were holding those cardboard pieces that looked a bit more puzzle-like than others, recognized what it was. Then we encouraged them to assemble the whole.
My hope was that the econ puzzle would show that alone each element of economic solutions looks odd or silly or useless. (for instance, I have heard people scoff that "time banking won't save the world"). But assembled together (time banking + reslience-building businesses + local investment + redefining "success", etc.) these elements start to make a solid and cohesive whole.
Read more about the elements and the ecosystem of economic solutions in 10 Practical Tools for a Resilient Economy. I'm continuing the story — my latest material, guidance for small businesses in the new economy, will soon be available in an e-course: Your Local Cup of Tea. Stay tuned for new pieces to the puzzle!