The ProAction Cafe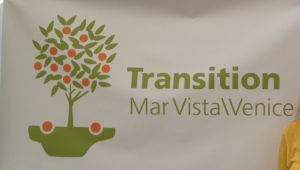 When is the last time 20 people devoted 3 hours of their Saturday exclusively to you as a small business owner, and helping you achieve success? In a nutshell, that was last Saturday's ProAction Cafe at Transition Mar Vista/Venice. And it was truly amazing.
Four local Transition-style businesses were "on the hot seat." After a brief intro to the format, the meeting broke into four small groups, Open Space-style, with one of the subject business owners at each of the four tables.
Each business owner was different. All but one were sole proprietors. One was on the cusp of picking an initial structure for her business, having done significant background research, statistics gathering, and network building. Another was shifting gears, for a more conventional style of product, to a product in support of sustainable businesses. A third was successful at current do-it-solo levels and looking to scale, which meant the issues of bringing on more people. The fourth had been operating as a partnership with two other people, and had just lost one partner amid conflict — an experience not unlike the breakup of a marriage.
The general participants spent 20 minutes with each business owner, and then rotated to the next. Just like in Open Space, each table had colored markets and large sheets of paper on which we were encouraged to draw, make notes, etc. The idea was to get each business owner to explore his or her answers for the business.
Each round had a specific question:
What is your Vision or Quest?
What is missing?
What do you need?
What are your next steps?
Each of the four business owners in our event were so open and willing to explore honest answers; willing to dig deep inside, even to access painful emotions.
In the conclusion of the day, the four business owners were invited to share how it went for them. Each seemed very "full" with so much support and feedback. The healers within our circle cautioned the business owners to let this process sit for a few days, to settle in — not to jump immediately into action, but to allow those suggestions which seemed to be "best fit" to bubble up through all they had heard.
The event was coordinated by Anneke Campbell, who had attended an "Art of Hosting" training at Transition US. A few members of Transition Mar Vista / Venice helped make the event unfold smoothly. Anneke wrapped the event with an absolutely delicious lunch of kale salad, greek salad, fresh pesto and bread, and homemade quiche.
The event was "invitation only" in order to achieve the proper number of attendees for the breakout circles. It could conceivably be done with more people, but I think the 4 to 5 people per breakout circle was just perfect because it gave enveryone time to participate (=approx 20 general attendance + 4 business owners + 2 to 3 organizers). I was delighted to participate because the event so perfectly dovetails with my latest project, providing business guidance that is specifically crafted for social enterprises, resilience-building businesses, and the new economy.
Anneke explained to me that the ProAction Cafe techniques could be used for many situations, including inside a company. But to me the format she chose seemed a very powerful way to extend broad community support to the Transition-style businesses we need to build a resilient local economy.
We look forward to doing another ProAction Cafe with four different businesses in the coming months.