'That lettuce' Frisee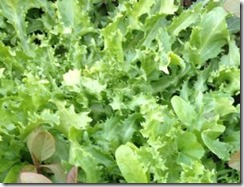 When it rains in L.A., 'that lettuce' comes up all over my yard.  My sister is probably the one who named it, years ago, asking me whether I had any seedlings of 'that lettuce' to share.
A mild-flavored green, pretty and frilly, it's a mainstay of our homegrown salads.  Meanwhile, it's a dynamite grower, puts up with rugged conditions, and sprouts nearly every month of the year if given a hint of moisture.
'That lettuce' is a long-lived annual or a biennial, and it is slow to bolt.  It's technically a chicory, so when it does eventually flower, it sends up a stalk of pretty blue cornflower-looking blossoms that attract pollinating insects.
In cool months it can grow anywhere.  In the hot months, I plant it (or transplant volunteers) in partial shade, for instance the dappled shade under a tree.  If grown in sun in the heat, it tends to be coarser-textured and develop a slight bitterness.
'That lettuce' Frisee
Cichorium endivia
Seed source: Los Angeles
So Calif season: plant in cool, will grow into warm
Plant .25" deep
Use a 8" planting triangle for biodynamic spacing
Containers: 3 plants per 24" or 5 gallon
Plant family: Compositae
Guild for Vegetable Crop Rotation Wheel: Roots & Greens. Okay in Broccoli guild, Tomato guild
This strain is fully acclimated to Los Angeles growing conditions, having been grown here for successive plant generations for about 10 years.
Locally grown seeds are available through Cityscape Seeds.
You might also like: