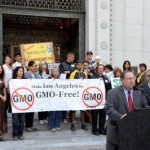 Don't call them "genetically modified" says the FDA.  In a campaign that is very likely driven behind-the-scenes by the marketing arm of biotech industry, the FDA now wants us to use the term "genetically engineered" instead.
Why is this so appalling?  Because the American public is just beginning to wrap their minds around the term "GMO".  That little combination of three letters is gaining widespread comprehension — "brand recognition" you might say.  Recognition that it is the Death Star of our global food supply.
And now that people are starting to recognize all the horrible health and environmental impacts of GMOs , we're supposed to change-out the language.
It's a blatant marketing tactic to confuse the public. Continue reading "Another effort to disguise GMOs and bury the evidence"