Seeding the new forest garden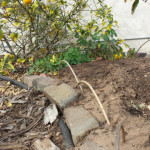 A forest garden is a garden of perennial plants that produce food.  It is often designed to look "forest-like," with trees forming a canopy above, and smaller plants creating a "forest floor" effect underneath.
As part of the Westchester Community Oven project, we had always intended to try adding a food forest garden to the Community Garden at Holy Nativity.
Since the spot chosen was under an asphalt parking lot for at least 30 years, the first step was some soil remediation.  As volunteers tilled the soil, we added compost.  We hunted down and removed any remaining crumbs of asphalt debris.
The first round of plantings in this space will be all about the soil — building fertility into a patch that has been abused and "treated like dirt" for so long.
On December 18 we planted two low-chill 'Anna' apples, on dwarfing rootstock.
We seeded a mix of annual plants that were selected for their soil-building properties.  This round includes plants appropriate for Southern California's cool season:
fava beans – nitrogen-fixing legumes
lupine – nitrogen-fixing, in spots where the large-sized favas wouldn't fit
daikon radish – its thick root will help break open the soil structure
buckwheat – quick sprouting, to create instant "green" aesthetic, but also compost crop for biomass and pollinator attractant
heirloom Sonora wheat – compost crop for biomass, but also a demonstration crop near the Oven
Calendulas and alyssum – for aesthetics and also as pollinator attractants
Kathy guided us in creating a really cute little bent-twig edging, to remind visitors not to walk in the growing beds.  It's made from really-local wood – twigs harvested from the grape vine at the front of the Garden, plus lemon verbena from Kathy's garden.
To make the fence, simply cut green branches from anything you have available,  approximately 2.5 to 3.5feet long.  Bend a twig gently in your hands, and stick the two ends into the garden soil.  You can overlap the curves, or not, depending on how you want it to look.
You might also like: