Planting Your Cool Season Garden – Sep 21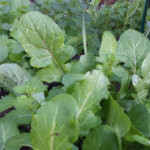 The cool season can be some of the most productive months in our Southern California Gardens, and the Brassica family is the star of the show.
Brassicas include kale, collards, broccoli, cauliflower, brussels sprouts, kohlrabi, cabbages, turnips, radishes, arugula, and more!
On Saturday Sept 21, Joanne will speak at the Seed Library of Los Angeles meeting about how to plan your cool season garden for seedsaving as well as yummy vegetables for your table. She'll show you how to plan a garden to minimize varietal crossing.
(handouts for the talk will be posted here as the date grows closer.)
Planning Your Cool Season Garden
Seed Library of Los Angeles
Sat Sept 21, 2:30pm
The Learning Garden at Venice High School
Corner of Venice & Walgrove, enter through gate on Walgrove
street parking. the talk is free.
optional Lifetime Membership to the Seed Library is only $10, and it entitles you to take home seeds to plant in your garden. The Seed Library encourages you to save seeds and return some of them to the Library to share with others.