Placemaking with Mark Lakeman – Mar 22, 26-27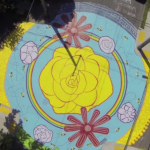 How do you create a neighborhood feel, within a city that is renowned as having been designed and built as "automobile-centric"?
Come find out, at an evening with Mark Lakeman, founder of City Repair, Tues Mar 22 …
Mark Lakeman is a national leader in the development of sustainable public places.  He created City Repair and the Village Building Convergence to reclaim city spaces for the people. In the last decade, with the help of thousands of volunteer activists, he has directed, facilitated, and inspired designs for more than three hundred new community-generated public places in Portland, Oregon, and many more worldwide.
City Repair has done things like painted intersections, installed benches, planted gardens, built Little Free Libraries, and other colorful artistic and techniques which bring people together as a neighborhood and a community.
Now we're doing it in Los Angeles! Come meet Mark, get inspired, and get connected with like-minded people who want to launch similar projects to transform their local places in L.A.
Videos about City Repair
Evening with Mark Lakeman
An evening with Mark Lakeman
Tues Mar 22, 7-10pm
Holy Nativity Church, 6700 W. 83rd, LA 90045
$15 suggested donation, but no one will be turned away
RSVP is helpful http://envirochangemakers.org/event-registration/
Placemaking weekend training
Want more than a single evening?  Save the dates for the 2-day Placemaking weekend training, which shares City Repair's toolbox of placemaking strategies with community activists who are ready for this next level of action! 2 days, Sat & Sun Mar 26-27, full details here
Full Southern California tour
Tue 3/22 – Los Angeles, CA @ Holy Nativity Church, Placemaking with Mark Lakeman, 7pm-10pm
Wed 3/23 – Los Angeles, CA @ Watts Labor Community Action Committee, Intersection Repair and Dedication Ceremony, 10am-5pm
Thu 3/24 – San Diego, CA @ Emerald Village – An Evening with City Repair and Mark Lakeman: The Village Heart is Everywhere, 7pm-9:30pm
Fri 3/25 – Los Angeles, CA @ LA Ecovillage – Placemaking Storytelling
Sat 3/26 – Los Angeles, CA @ LA Ecovillage – Urban Placemaking for Cultural Transformation, 2-day placemaking training, 10am-5pm
Sun 3/27 – Los Angeles, CA @ LA Ecovillage – Urban Placemaking for Cultural Transformation, 2-day placemaking training, 10am-4pm
Mon 3/28 – Pasadena, CA @ The Shed – Placemaking Storytelling, 6:30pm-9:30pm