How do we help small businesses thrive?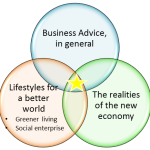 If you are a sustainability-oriented business owner, you probably wish your small business would provide you with a more reliable livelihood.
It's hard to find business guidance which reflects the ways of the new economy.  It's hard to make the shift away from the rape-and-pillage, Industrial Growth models.  It's hard to find business advisors who truly understand our desire to create a better world.  But you're in luck.
It's a big job to sift through business advice and sort out which is appropriate – and which is inappropriate – for a new-future economy.  How do we create businesses that are gentler on the earth, and more fair and just to our fellow human beings?
Even if you're simply striving to "be greener," some of the advice out there is plain old ridiculous, and the steps recommended are far from affordable.  Time for some sanity.
Meaningful Support
Wouldn't it be great to get weekly support that helps make your small business thrive?  Such as weekly motivation to create changes.  A small step each week which spurs you to put in place solid business practices, to increase the security of your income stream.  That way you and your business could help change the world AND make a decent livelihood while you're doing it.
Wouldn't it be great if that business advice were written by someone who understands the new future and the changed economy?  Someone who has a passionate commitment to further The Great Turning.  Someone who wants to see you succeed.
Welcome to the newest portion of the Change-Making journey.
Someone Who Understands
Some of you know that before I built Environmental Change-Makers, I was a CPA in public practice.  You probably recall that I've written plenty of material on the evolving economy, including international blog posts, ebooks, and 10 Practical Tools for a Resilient Economy.
My new project is called Your Local Cup of Tea and it is business guidance to help you thrive.  Your Local Cup of Tea focuses in on small, sustainability-oriented businesses and helps shore up your business skills – appropriate business skills, which will take you where you want to go.
Your Local Cup of Tea won't be like other business advice (because today's business environment is so completely different).  It embraces the changed pace and the community-building energy of the new future.  It will be much more like sitting down for a cup of tea, to talk about your business in real terms, with a friend who understands what you are trying to achieve.
Action Steps
Your Local Cup of Tea will arrive via weekly emails, each one containing a small action step that's designed to make your business become more Resilient.  Every step is designed to take you and your business closer to success in a new-future environment.  Even if your business isn't currently oriented toward the new future, Your Local Cup of Tea can help you make the shift.