Coping
The material of the Great Unraveling is tough to take. I applaud you for your courage in working your way through it. However sometimes courage comes at a high price.
When Rob Hopkins and Naresh Giangrande began putting together the ideas that would become the Transition Towns movement (the predecessor of the international Transition movement), Sophie Banks was part of the initial circle.
Banks understood that this material was heavy stuff. That we needed to have some Practices for coping with it, for dealing with it emotionally and spiritually. Banks formed groups and exercises which later became the Inner Transition aspect of many Transition Towns — these specifically address the emotional and spiritual aspects of these complicated and trying times.
Spiral Path – Joanna Macy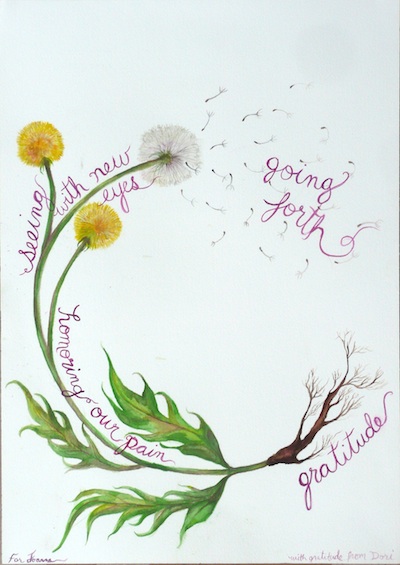 I first heard of the work of ecophilosopher Joanna Macy through Sophie Banks and the international Transition movement.
Macy's work understands the big umbrella problems — climate, biocapacity, The Economy, disenfranchisement. She understands peak everything, environmental devastation, and the social crises we're experiencing. Her recent work shows some signs of the reckoning with racism. Macy pulls tools from classic disciplines around the world. She teaches us to find healing in what she calls the Spiral Path.
Joanna Macy's Spiral of the Work That Reconnects:
Start with Gratitude – it allows people to calm their nervous systems and reconnect with themselves, the earth, and that which gives them joy.
Honoring our Pain – this stage in the Spiral is so present right now and people will go deep quickly.
Seeing with New/Ancient Eyes – we are in unprecedented times and need to see in new ways, so make time for this exploration.
Going Forth – allow people some time to figure out next steps even if very small so they have something to move forward with.
Gratitude Journal – Gratitude is a practice that is found in many disciplines, and is a great fit for the moment we're in right now. What do you have around you right now that you are grateful for? There's always something. It might be the tiniest thing, and on some days that's all that we can manage. Other days you might see huge things that you could be grateful for.
Read more about gratitude journals from the Greater Good in Action program at UC Berkeley
Source: Greater Good In Action program, Greater Good Science Center, UC Berkeley. (n.d.). Gratitude Journal: Count your blessings and enjoy better health and happiness. Retrieved January 19, 2021, from https://ggia.berkeley.edu/practice/gratitude_journal
"Aware of suffering and injustice" promise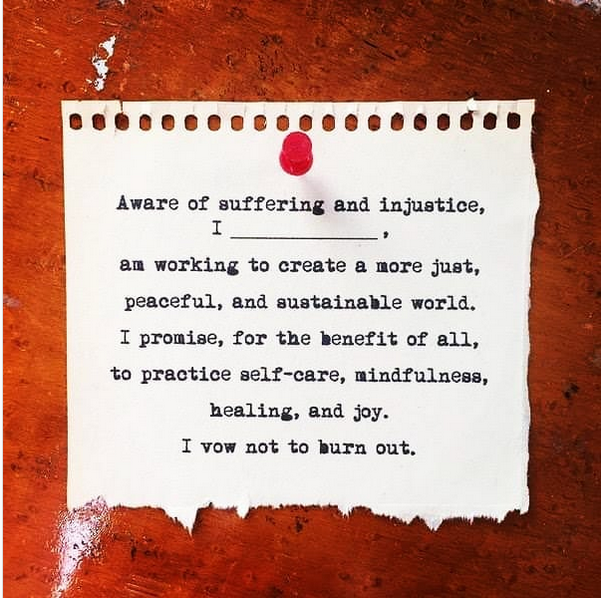 If we attack environmental and justice work with the same more, more, more vigor that is pervasive in the Business As Usual world, that is a recipe for burnout.
Mohawk/Kanienkeha:ka seed steward Rowen White offers this promise. She invites us, no matter what our background, to move forward in action, while including the practices of self-care.
What does "working to create a more just, peaceful, and sustainable world" mean to you? Under what circumstances have you gone through "burn out" in your past? What does practicing "self-care, mindfulness, healing, and joy" mean to you?
Source: White, R. [@rowenwhite]. (2018, October 16). Aware of suffering and injustice, I [Image]. Instagram. https://www.instagram.com/p/BpAncUpFpbb/?utm_source=ig_web_copy_link
Spend time in nature
Nature heals. Nature soothes. Nature restores. Nature connects. (University of Minnesota, n.d.)
A walk in a natural space — a park, the beach, local mountains — can do wonders for your mood, your energy levels, and your stress levels.
What would it take to arrange your schedule so that you could gain some outdoor time? This week? On a weekly basis?
You may find support in the work of @outdoorafro , @blackgirlswithgardens and @soulfirefarm on Instagram
Source: University of Minnesota. (n.d.). How Does Nature Impact Our Wellbeing? Retrieved January 19, 2021, from https://www.takingcharge.csh.umn.edu/how-does-nature-impact-our-wellbeing
Rest
"I rest," I told myself. Then why didn't I feel rested?
Turns out there are several facets to Rest. And I was undermining one in doing another.
Take it slow — this is not a time to be multitasking!
In order to truly replenish our energy, we need to schedule the right kind of restorative activities into our day. Dr. Saundra Dalton-Smith describes seven kinds of Rest.
Which one do you need most right now?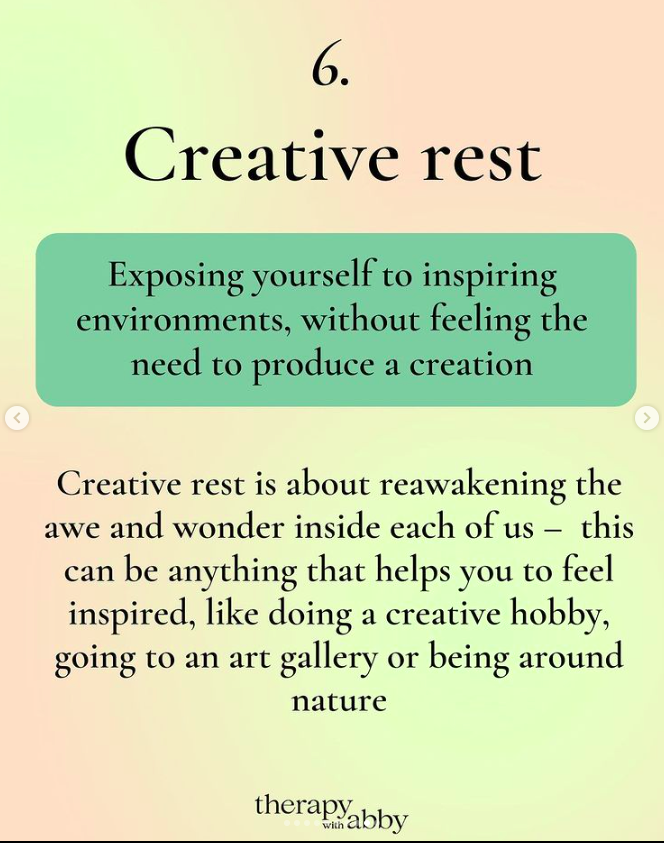 Dalton-Smith MD, S. (2021, January 6). The 7 types of rest that every person needs. Ideas.Ted.Com. https://ideas.ted.com/the-7-types-of-rest-that-every-person-needs/
therapywithabby. (2021, April 5). The seven types of rest everyone needs [Instagram post, quoting Dr Saundra Dalton-Smith]. Instagram. https://www.instagram.com/accounts/login/?next=/p/Cb-WALrq7Dw/
Take a nap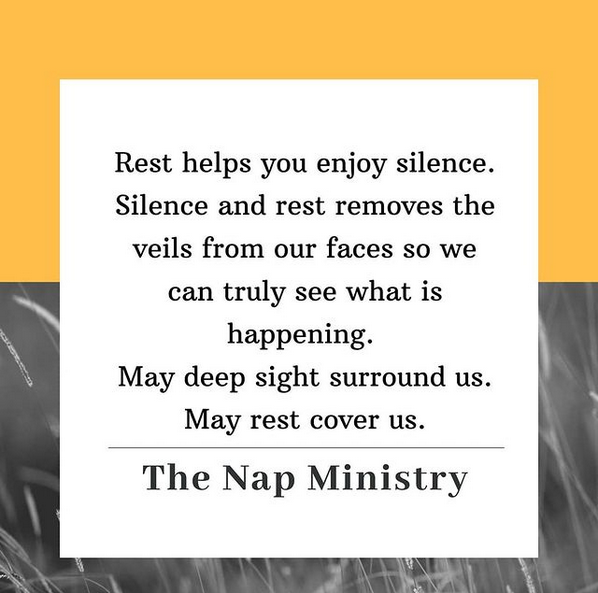 Read Tricia Hersey's feed for a while and you learn that the U.S. laws against vagrancy have deep racist roots. Hersey tells us that naps are a form of resistance, particularly for Black people. Leisure and radical rest for Black people is a racial justice issue.
And under the weight that comes with knowledge of The Great Unraveling, together with the prospect of change-making amid this more, more, more world — and in light of Rowen White's reminder of self-care — naps become essential recharge for all of us change-makers.
What are the essential ingredients of a good nap, for you? When can you next take a nap?
Source: Hersey, T. [@thenapministry]. (2020, October 6). Rest helps you enjoy [Instagram post]. Retrieved from https://www.instagram.com/p/CGAWlHCFWuW/?utm_source=ig_web_copy_link
Good news
Surround yourself with good news stories, stories about solutions, stories about people who are working to create and cultivate The Great Turning. This is a coping strategy that I discovered in the early years of my environmentalism. It's worked for me for more than two decades.
Realize that the conventional news media, particularly now in a click-counting world, runs on fear: if we feel afraid and worried, we are more likely to click and keep clicking.
However, the good news doesn't grow that way. Think about how a plant grows. The seed opens slowly, it takes a while for the plant to add cells and grow tall. It takes years, decades for it to become a tree. Solutions that grow slowly don't fit with a 24/7/365 click-happy news cycle. Only rarely will find the solutions we talk about in this course popping up in your news feed. If they're in there at all, they will be buried deep.
Realize also, that many of the deep solutions are small projects, run by change-makers who don't have a social media department or a spokesperson to be getting their stories into the news. They may post only occasionally.
That's why, in order to create a source of good news, we need to cast our net far and wide, to pull in progress reports from many different positive projects, from many different change-makers.