Urban Seed Saving – Oct 8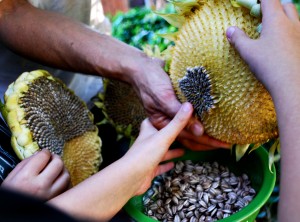 Do you want to join the efforts to conserve heirloom vegetable seeds?  Do you want to create your own vegetable varieties?
This hands-on workshop covers plant reproduction for the major vegetable plant families, cross-pollination, preserving varietal purity, seed storage, and cleaning seed … and how to maximize the benefits of our urban conditions to get the very best seeds.
Presenters include David King (Seed Library of Los Angeles, UCLA Extension, and The Learning Garden), Azita Jolei (Seed Library of Los Angeles and Homegrown Gardens), and Joanne Poyourow (Environmental Change-Makers, Community Garden at Holy Nativity, and Cityscape Seeds).
Plus … for lunch you can bake your own pizza in the wood-fired Westchester Community Oven (bring pizza dough and toppings to share potluck-style) or bring a salad to share.
Urban Seed Saving
Saturday October 8, 2016
8:00am arrival and sign-in; 8:30am start time
Completion at 5:00pm
Community Garden at Holy Nativity, 6700 West 83rd, LA 90045
Early-bird Tuition $85 basic tution, $160 couple, $70 student/senior discounted price
pre-registration is necessary at www.SLOLA.org
Prices increase on Sept 30th, so save your spot today!
Offered in conjunction with the Seed Library of Los Angeles (SLOLA).