Designing an Edible Landscape – Nov 5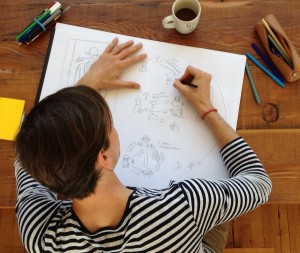 A one-day workshop with Joanne Poyourow
What makes a great garden? Healthy veggies. Enthusiastic gardeners. Abundant bees and earthworms.  (Oooh I love it!)
Whether you're interested in creating a home garden or a school garden, you'll learn what to consider as you plan an enticing and attractive organic vegetable garden.
If you love the Community Garden at Holy Nativity, here's your chance to bring it home.  I'll teach you what went into the design of that garden, and what to look for in your own space to make a wonderful little niche of living beauty.
In this workshop, you'll experience a broad-spectrum introduction to landscape design including: vegetable plants, fruit trees, food forests, garden sharing arrangements, soil building, composting, vermiculture, rainwater harvesting, container gardening, and many elements of sustainable design.  Discover how to select appropriate plants and build fertile organic soil so that your garden thrives.  My workshop covers how to organize people resources – young family members, or the rich assortment of students, volunteers and stakeholders that makes a public garden possible.
As always, my approach to the topic is low-inputs, low-cost, water-wise, and long-term sustainability-centric.
What to bring:  pen/pencil/notebook; sack lunch; sun protection (hat, sunscreen) since part of the class will be outdoors); sweatshirt (temperatures vary widely); photos of your garden if you want to ask site-specific questions.  We will provide coffee, tea, water, and a light snack.
Saturday November 5
rain or shine
8:00am arrival and check-in; 8:30am session begins
3:00pm completion
Community Garden at Holy Nativity, 6700 West 83rd, LA 90045
pre-registration is necessary (below)
prices increase on Oct 31, so reserve your space today!
Register here via PayPal or credit card: