Drought-tolerant food plants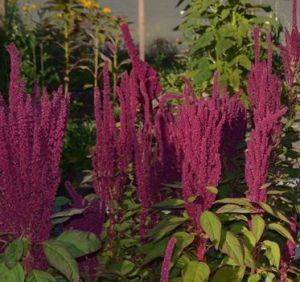 Vegetables and food plants that thrive in low water conditions in Southern California …
Amaranth
African basil (Ocimum kilimandscharicum)
Arugula sylvetta – the small-leafed, intensely-flavored perennial arugula
Arugula (W)
Chicory (W)
Grapes
Cowpea / blackeyed pea – especially the varieties developed by Native Americans in the desert southwest
Cumin (LX)
Fennel – perennial in our area.  Produces fennel seed under severe drought conditions.  Bulbing varieties needs some irrigation to form the succulent stems we call "fennel bulbs"
Garbanzo beans – need water supply turned off once the pods form (LX)
Italian dandelions / Catalogna chicory (Cichorium intybus) (W)
Lentils – need water supply turned off once the pods form
Mediterranean herbs such as oregano, sage, rosemary, thyme – all perennials in our area
Mexican oregano (Lippia graveolens)
Mexican tarragon (Tagetes lucida)
Molokheiya / Egyptian spinach (Corchorus olitorius), a mild-flavored green with coarse woody stems which tolerates searing heat quite well
Nopales (Opuntia species) – both the paddles and the fruit of this large cactus are edible (LX)
Par cel herb – leaf celery (W)
Pomegranates
Quelites are a form of Lamb's quarters used as greens in Mexico
Quinoa – source of the high-protein "grain" that is gaining in popularity, the young leaves are edible as a potherb
Spanish mint / Cuban oregano (Plectranthus amboinicus)
Tomatillos, especially varieties from the desert Southwest
Watermelons, especially varieties from the desert Southwest
Heirloom varieties (of familiar vegetable plants) that were developed for drought-tolerant conditions.  For instance there are squash, bean, melon, and corn varieties that were developed by Native Americans in the desert Southwest.  There are drought-tolerant rice varieties developed over generations in India.
Certain medicinal herbs, like aloe vera, lavender, calendula, California poppy, feverfew, horehound, ma huang (Ephedra sinica); white sage (Salvia apiana), yarrow.
Low-to-moderate water needs
Artichokes – (W) since they flourish in our winter, and die back in summer, they can tolerate summer dryness
Bay leaf (Italian Laurus nobilis or California Umbellularia californica)
Chili peppers – the hot kinds tolerate drought conditions better than the sweet/bell kinds (F)
Citrus (lemons, oranges, tangerines, limes, grapefruit, kumquats) – most want to dry out between waterings
Fava beans (W)
Figs (F)
Feijoa / pineapple guava (Feijoa sellowiana) (F)
Jujube / Chinese date (Zizyphus jujube) (LX)
Saffron crocus (Crocus sativus)
Strawberry guava (Psidium cattleianum)
Sunflowers
Some tomatoes – some of the wilder varieties of cherry and current tomatoes are remarkably drought-tolerant
(F) = plant itself does fine in drought conditions, however irrigation improves fruit
(LX) = I personally have limited experience with this plant so I am relying on the opinions of others
(W) highly drought-tolerant during Southern California's winters, when cooler temperatures mean slower moisture evaporation
For my guide to which plants grow in Southern California's warm season and which grow in Southern California's cool season, see "What to Plant When in Southern California"
For more information on growing high-yield vegetables in low-water conditions, see my booklet "Water Wisdom" or browse other posts about water saving ideas .
Seeds to many drought-tolerant varieties which have been or are being localized to Los Angeles are available through Cityscape Seeds
If you enjoyed this post, please consider making a small donation to help support my ongoing work. — thanks!