Cob repair days – March and April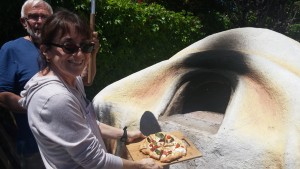 Want to play in the mud? Are you interested in building with cob? (straw + mud combination, a sustainable building method) A small team will be repairing the Westchester Community Oven during selected workdays in March and April.
Damage to the Oven
During one of the fierce January storms, high winds lifted the rain tarp and the Oven was exposed to a downpour.
Despite how horrible it looks, the damage was "cosmetic" – the beautiful sculptural curves sustained a lot of damage, but the cooking part of the Oven still works fine.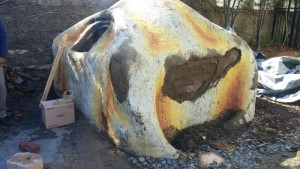 (photo is of late January rain damage)
That's why we will be holding some Cob repair days to restore the Oven to its full glory.
Pizza bake – Mar 11
If it is not raining on Saturday March 11, the Oven will be open to the public for pizza baking (11:30 am) and bread baking (approx. 2pm). For RSVP and full details on what to bring with you, please see the LA Bread Bakers Meetup: Pizza event and Bread event.
The Westchester Community Oven is located at 6700 W. 83rd, LA 90045.
Oven baking days aren't just about baking. They're a great time to meet new friends and hang out in the Garden. Plus the pizza always seems to go out "potluck" style, so you get to try lots of new and different flavors. Yum!
Cob repair days – March & April
Weather permitting, the Cob repair days will take place over several work days in March and April, with drying time in-between. We will be
mixing cob (clay + sand + straw)
applying the cob to re-create the sculptural exterior
painting the Oven with porcelain paint, and
mixing and applying a water-repellent coating.
We will be working as a very small team, so the number of participants is quite limited. Please contact the Oven team directly for date/time information, as it is still being arranged. Sorry, no children at these Cob repair days.
If you are interested in participating in the muddy fun, please contact us one of the following two ways.
email the Oven team at WestchesterCommunityOven@gmail.com
or stop by to meet Paul the morning of March 11 (say, between 10am and 11:30am) at the Oven
Next Oven event
Mark your calendar for Saturday April 8, for the next pizza and bread baking events.
You might also like: