Artisan Bread Tasting (and raffle!)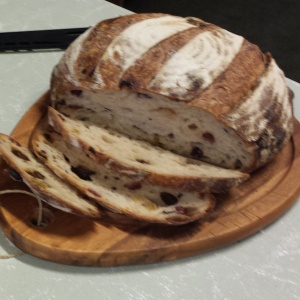 Imagine: hand-baked artisan bread, fresh from the oven.  Would you like to sample a diverse assortment of flavors and textures?
…and enjoy a fun afternoon with great company?  …and possibly WIN special loaves to take home? …or win the 50/50 pot at the raffle!
Come to the Artisan Bread Tasting (and raffle) on March 15.  It's a fun-raiser for the Community Oven project we're building at the Community Garden at Holy Nativity.
Erik Knutzen of RootSimple.com — the co-founder of the Los Angeles Bread Bakers — will answer questions about artisan bread.  What's all the fuss about "crumb" and "crust"?  What's the big deal about wood-fired ovens anyhow?
We hope you can join us in the fun, and support the bread oven project too!
(Can't attend?  We welcome you to send donations for the project!)
Artisan Bread Tasting (and raffle)
Sunday March 15, 3-5pm
Community Hall at Holy Nativity
6700 W. 83rd, Los Angeles, CA 90045
admission is free, but we do hope you'll buy raffle tickets!
RSVP is helpful so we have enough food
Bread bakers:  We welcome you to donate 2 loaves of homemade bread (one to be cut into "tastes" and one to raffle) or 2 jars of homemade preserves or spreads.  Full info here.
You can help!  Share the flyer
You might also like: