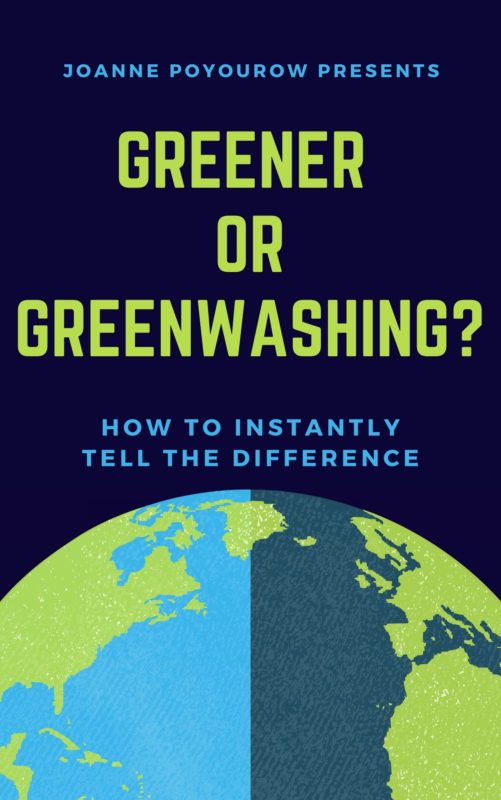 Greener or Greenwashing? How to identify true solutions
a quick mini-course that will help you to instantly weed out greenwashing, identify greener practices, and find true solutions that lead society toward sustainability.
Free (during introductory period)
Hop over to my page at the Podia platform to access it https://jpoyourow.podia.com/greener-or-greenwashing
Order Now!
About the Book
If you're tired of pollution and science denial … if you're sickened by corporate attempts to snow us about what is greener … if you're worn down by The Economy, keep reading.
How do you identify true solutions?
Say you're sitting there staring at a possibly-greener-thing – maybe it's a product in a store or on a website. How do you tease out what is greenwashing, the stuff that looks kind of green, but underneath it still same-old business-as-usual? Are you looking for "organic" on the label? Is "local" better? How do you tell what things will truly lead society towards sustainability?
Wouldn't it be great if you had an easy way to tell, in an instant?
With my Greener or Greenwashing mini-course, you can instantly identify corporate brainwashing, and determine better choices for the path towards sustainability. Plus, you'll gain three important ways you can do all this without spending much money.
I know you want to feel proud, eager, excited about the greener things you do. You want to feel a sense of integrity, feel good about yourself. You want an easy way to tell how to act, as a decent human.
When you discover a misstep, when you've been suckered into something that wasn't really greener, you feel guilty.
I get it. I'm there too.
I'm Joanne Poyourow. Since 2004, I've lead the Environmental Change-Makers community group in Los Angeles.
I'd like you to have the same questions I use to identify what is greener versus what is greenwashing. I do this in an instant, without tremendous analysis, simply by asking myself certain key questions. The questions themselves do the heavy lifting of teasing out the flaws in a possibly-greener-thing.
This allows me to feel good about myself, feel a sense of integrity. All the little pieces of my actions add together and create an overall direction of shift and positive change. Little by little, I'm moving my lifestyle towards greater sustainability.
My Greener or Greenwashing mini-course contains everything you'll need in order to learn this sorting process. You can apply it to almost any possibly-greener-thing: a lifestyle habit, a public policy or law, even a product.
Inside The Greener or Greenwashing mini-course, you'll get the same questions I use to determine things in my own life. You'll get an eye-opening definition of greenwashing. You'll get a definition of greener which is probably different from anything you've ever seen. The whole thing is tied to what I call "the Four Big Umbrella Problems" that humanity is facing right now: climate change, biocapacity, The Economy, and disenfranchisement.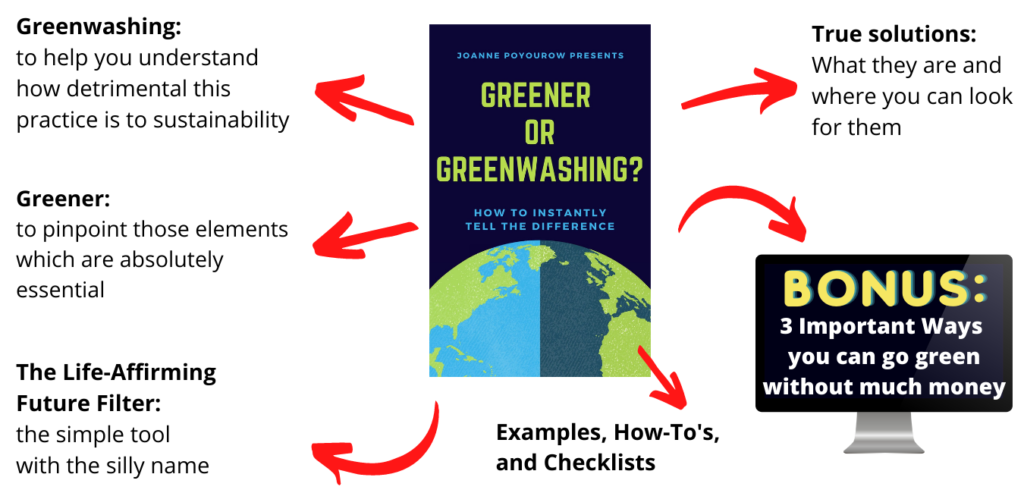 You'll gain a thinking process: understanding what went wrong (how first-world societies got so very far off course), and understanding the path toward sustainability.
Let me state the obvious here: Science is real. This mini-course is anchored in real science, but I bring it to you in understandable plain English.
This course goes far beyond a little surface-greening. You'll gain clarity about the direction of the future, what it needs to be for human survival. And you'll gain a sense of contentment, the security that you're on the right path toward a more-sustainable future.
Hop over to my page at the Podia platform to access it https://jpoyourow.podia.com/greener-or-greenwashing
Disclosure of Material Connection: Some of the links in the page above are "affiliate links." This means if you click on the link and purchase the item, I will receive an affiliate commission. I am disclosing this in accordance with the Federal Trade Commission's
16 CFR, Part 255
: "Guides Concerning the Use of Endorsements and Testimonials in Advertising."