Otis class: Designing an Edible Landscape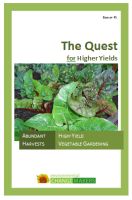 Last Saturday, I taught a workshop on edible garden design at Otis College of Art & Design.  It was a rapid-paced day, and we covered tons of ground (ha, ha!), and it was lots of fun.
We talked about aesthetics and gardens as sculpture; people in the garden and basic ergonomics; designing for soil building and water saving; fruit trees, shrubs, vines, and of course veggie plants.
If you missed the workshop (or if you took it and want MORE), I'm working with Otis' Continuing Education Department to see if this autumn they will run the 10-week course I developed.  Stay tuned!
I am also in the process of writing the "Design" booklet, to add to my series on organic vegetable gardening in Southern California .  These booklets are written specifically for our unique, year-round Southern California growing conditions.
Meanwhile, for those who participated in the one-day workshop, here are the slides I used:  part 1 and part 2.  (Be patient, they're big files and they're on GoogleDrive so they load slowly)  For those who weren't there, the slides give you a little "taste" of the class, but you'll have to check back for more!
You might also like: