Garden's Edge / Qachuu Aloom – Sept 3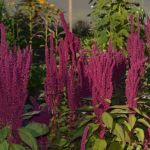 We are delighted to co-host a very special Guatemalan farming and seed saving group on September 3.  In New Mexico they are known as Garden's Edge, and their Guatemalan name is Qachuu Aloom ("Mother Earth Association").
When aid organizations brought only hybrid and GMO seeds that the farmers could not replant to grow food, fields went barren.  A few elders brought out precious stashes of old varieties of seed that had been saved in old bottles and roof tiles.  Thus started an organization that seems to be part seed library, part community revitalization, and part cultural re-membering.
Here is a beautiful story about Qachuu Aloom seed saving (pdf) as described in Baker Creek's magazine, and another conveying their remark that the permaculture principles are "just like I learned from my grandmother".  Here is their U.S. website Garden's Edge
Video of Qachuu Aloom and the story of their corn
SAVE THE DATE:  On Sept 3, people from Garden's Edge / Qachuu Aloom will be speaking at Beyond Baroque in Venice.  Tentative schedule has them starting at 8pm.  All donations will benefit the Guatemalan organization.  More information will be coming soon.
Qachuu Aloom / Garden's Edge will be hosted by the Seed Library of Los Angeles (SLOLA), Kiss the Ground, and the Environmental Change-Makers.
You might also like: