Cactus juice preservative for the cob oven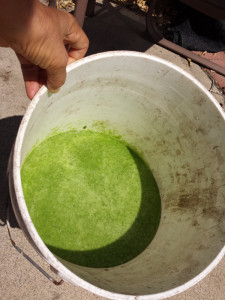 I'm "cooking up" a batch of Opuntia juice preservative.  It is a traditional weather coating used on adobe and cob structures.  We will be adding it to the final coat on the Westchester Community Oven when we re-surface it next weekend.
I had to post this because it is absolutely a frightful color of green.  No filters in that photo!
To make the preservative, you finely mince or puree cactus pads (Opuntia species, better known as prickly pear, or "nopales"), which yields a goopey green glop.  Then you pour this into a 5-gallon bucket of water, at which point it doesn't mix with water right away, so it really looks like Shrek had a horrible head-cold.   
You let it ferment for one to two weeks.  By that point it smells sooooo bad … but you mix it into the mud that becomes the final 1/4″ coating atop the entire oven structure.  Then you apply it by hand (and the entire crew goes home smelling like it).
The slimy properties of the cactus are water-repellant.  Not water-proof, but merely water-repellant.  It helps.  But we will still need to throw a tarp over the oven when rain is coming.
If you'd like to join us for the Cob Top-Coat party:  Weather permitting, it will be Saturday Oct 3, starting about 1:30pm, at 6700 W. 83rd, L.A. 90045.  Wear really old clothes, and old closed-toed shoes, plus a sunhat, and be willing to get really muddy and smelly.  This event is not recommended for kids under age 12.  Please RSVP so that we can contact you if there are any last-minute changes.