Imagine the future as we create all these positive changes!
Immerse yourself in stories about characters who are change-makers.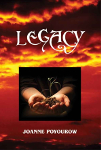 Legacy: A Story of Hope
An epic saga that spans generations, the "Gone With the Wind" for the fossil-fuels era.
Tia Chandler meets Ari Damek, a guy like none she has ever met. He's full of grand dreams, talks big plans, and he has a way of bringing others along with him.
It's a lifelong romance, as well as a decade-hopping story about what it means to be a change-maker. See the city of Los Angeles and the broader American society transform to greener, earth-wiser ways. Rather than a leap into the future, this is a story about creating the transition.
Anniversary edition ebook coming in 2019.
Symbiosis
Spunky and sassy River Harris is a landscaper and urban farmer, growing food and "just scrapping by," like everyone she knows.
In near-future Los Angeles, runaway corporate power has rendered people barely able to afford daily necessities. Most folks are disconnected from the environment — they're more worried about economic survival, and corporate conditioning has persuaded them that the natural world's not important anyway.
So when the chemical company Tocque Science Corporation rolls out an ambitious plan to get landscapes everywhere dependent on their products, it seems like a done deal.
Yet River has a secret. She has a special ability, a sensitivity through which she can sense the life essence of plants and ecosystems, that no one else seems to have. When she discovers how the chemicals sear earthworms and soil organisms out of existence, she vows to do something — to awaken the populace, teach them to connect to earth forces, stop the spraying, and save the environment.
Meanwhile, Chad Cutler, an operative of Toque, knows the hidden power of gifts like River's. For decades he has investigated — and silenced — these troublesome individuals. Once he learns about River, he hunts her down.
And when tall, yoga-teaching Adrian Durant twists his way into River's life, she discovers that before she can teach others to connect to earth forces, she will have to learn how to open her own heart.
Want all the news about upcoming releases, as well as short stories that continue the lives of Tia, Ari and River?