OvenMaster Training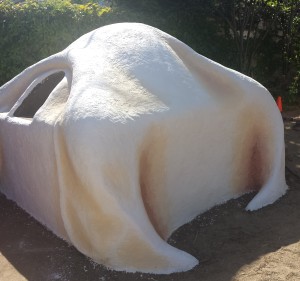 There are baking skills and there are fire skills.
Los Angeles Bread Bakers will soon be scheduling baking classes at the new Westchester Community Oven.  (And we'll have a public "grand opening" celebration sometime in September).  But for fire skills, we are offering the OvenMaster Training.
The OvenMaster Training will eventually be offered several times per year, but we will soon be offering the very first one.
[note: the July 26 date previously published has been CANCELLED.  Due to damp weather, the oven is not dry enough to bring up to full baking temperature yet.]
In the OvenMaster Training, you can learn about fire-building with the goal of baking; good wood; use of oven tools; fire safety; crowd management; community oven procedures; site procedures, and other fire-related aspects of the Westchester Community Oven.
The Westchester Community Oven will soon be opened to groups from the general public who want to try out a wood-fired bread-and-pizza oven.  Any group which wishes to use the oven must work with a Certified OvenMaster at their event.  And the OvenMaster Training is the only place to get Certified to run the Westchester Community Oven.
During the training, you will participate in building the woodpile, lighting the fire, using fire tools.  You'll learn about kindling and tinder.  You'll experience the rhythm and flow of pizza-versus-bread baking (note: this is a fire class, NOT a dough class, nor a cooking class). You'll learn what to do with the fire to put it out.
A significant portion of this class will be oriented specifically to operations at this Westchester Community Oven:  where to store tools, our procedures for dealing with reservations, how we manage wood supply, how to preserve good neighbor relationships.  Here's more about the OvenMaster Training.
OvenMaster Training
[date t.b.d.]
free for people who plan to volunteer for the Westchester Community Oven
$25 donation requested if you don't plan to volunteer
Pre-registration is necessary
6700 West 83rd, Los Angeles, 90045