Environmental Studies – Sustainable Solutions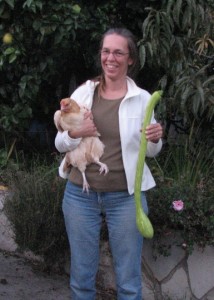 This course is offered to high-school aged students through Creative Learning Place in West Los Angeles.
Want a radical turn from the typical environmental studies courses?  Let's look at the solutions, and what we can do!
In this class we will focus on all the wonderful things that people are doing — locally and worldwide — to change society and to evolve our lifestyles into something that is much more sustainable.  We won't gloss over the problems — as we talk about the solutions, "the bad news" comes along for the ride.  In this class students will have writing and research assignments, and weekly hands-on projects.  Parents beware: You're signing up for change, because part of the students' assignment will be to integrate these more-sustainable solutions into family life!
Grades 9-12.  No students under age 13.
No textbook.  We will use online researching, and your student will need to set up a free account at Edmodo.
Course of Study     Note to Parents
Instructor Joanne Poyourow directs the Environmental Change-Makers, a community group in Westchester that focuses on "What we can do" about our environmental issues. With the Change-Makers, Joanne has piloted several major sustainability initiatives in Southern California.  Joanne co-teaches two sustainability-related courses at Otis College of Art and Design, and has written several books on sustainability topics.  She co-founded the Culver-Westchester Homeschool Network, and homeschooled her children for 12+ years.  Joanne's home garden is an edible landscape with rainwater harvesting, greywater, and city chickens.